Petmeetly

, the ultimate online marketplace for Dogs and Puppies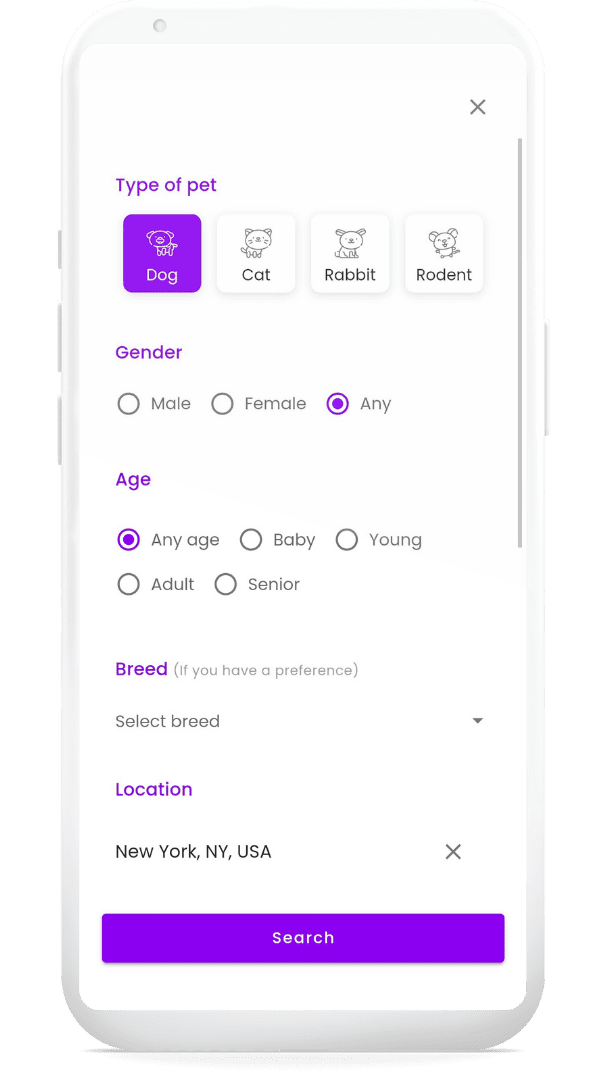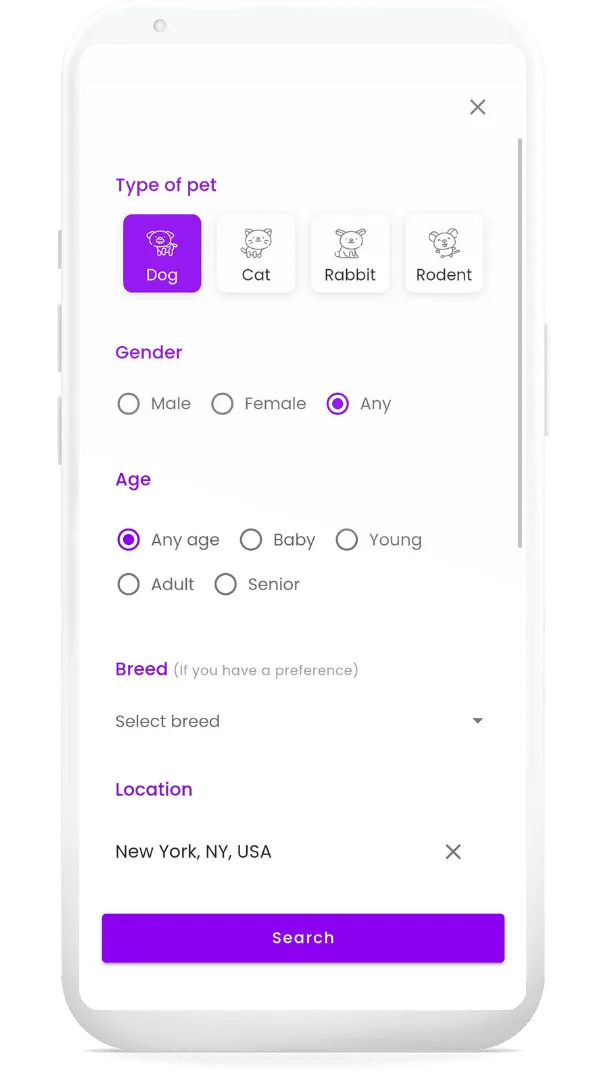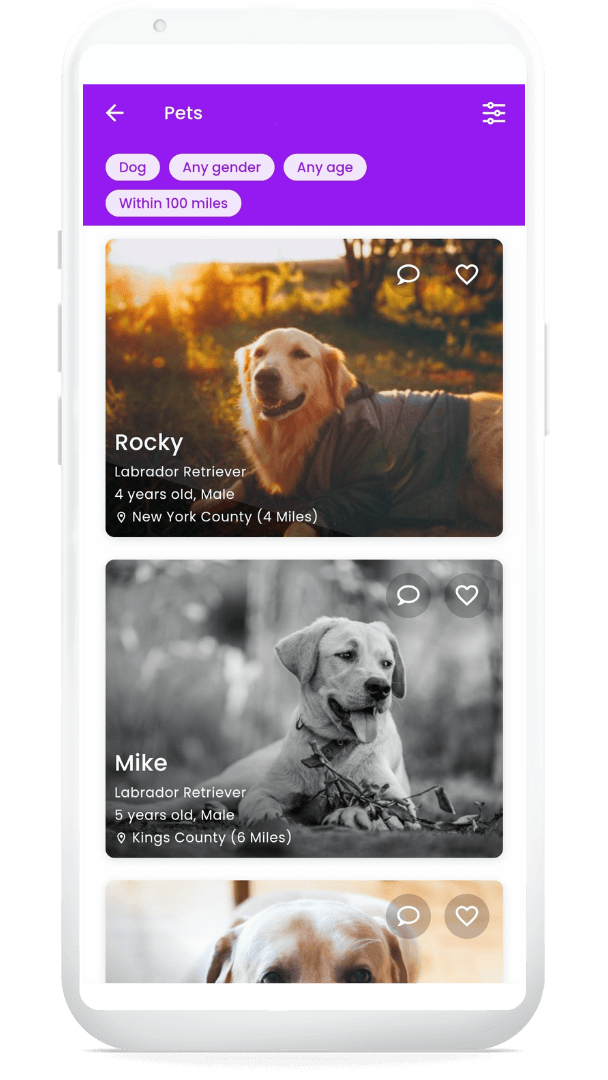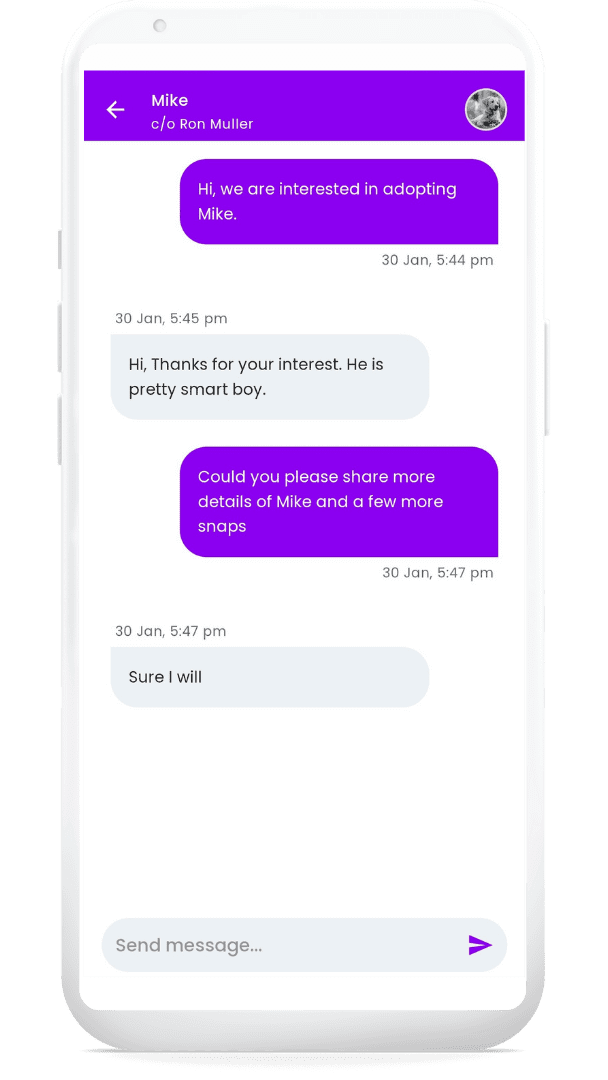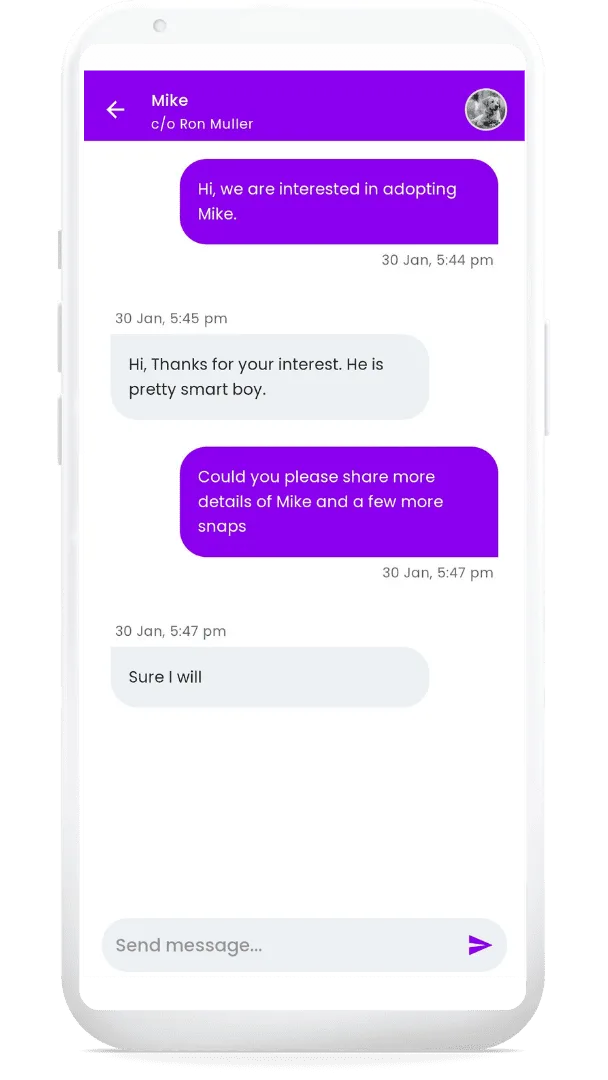 Find Dogs and Puppies for Sale Near you
How to find Dogs & Puppies for Sale?
When planning to buy a dog, it is essential to take the required measures to choose a reputable breeder or pet shop. As a guide for your search, consider the following:
Consider aspects such as size, activity level, and grooming needs when determining the breed or kind of pet that best fits your lifestyle.
Research local breeders and pet retailers, focusing on those linked with respected breeding organizations that can give health clearances for their animals.
Plan a visit to the breeder or pet shop in order to see the facilities and animals in person. Look for habitats that are clean and well-kept, and ask to meet the parents of the animal you're interested in.
Inquire about the health history, food, and immunization regimen of the pet. A reputable breeder or pet dealer should make this information easily available.
Familiarize yourself with the return and refund procedures of the breeder or pet shop in case the animal does not match your expectations.
Consider the financial and time commitments associated with pet ownership, such as the expense of food, medical care, and training.
Spend time with the animal before bringing it home to make sure they are a good fit.
As soon as you bring your new pet home, you must provide it with a secure and pleasant living environment, nutritious food, and routine veterinarian treatment.
By adhering to these rules, you will boost your chances of finding a pet that is healthy, happy, and completely suited to your family's requirements.
How much does it cost to buy a dog?
The cost of buying a dog may vary greatly depending on various factors, including the dog's breed, location, and whether it is a purebred or mixed breed.
Purebred dogs from reputable breeders may cost hundreds to thousands of dollars, with famous breeds including the Labrador Retriever, German Shepherd, Golden Retriever, and Bulldog costing between $800 and $3000. Some breeds, like as French Bulldogs, may be much more expensive, costing up to $5000 or more. Meanwhile, mixed breed or rescued dogs might be more economical, with prices ranging from $50 to $500 based on location and individual canine traits.
However, bear in mind that the initial cost of acquiring a dog is just the beginning; continuing expenditures such as food, veterinary care, grooming, and training may quickly add up. Finally, it is best to avoid acquiring dogs from pet businesses that advertise lower pricing since they may have originated from puppy mills, been abused, and have health concerns.
Search Dogs and Puppies For Sale
Ready to bring a furry friend into your home? Search now for dogs and puppies for sale and find the perfect companion for you and your family.
PetMeetly made finding our new pup a breeze! The search filters allowed us to find the perfect breed and location, and the detailed profiles gave us all the information we needed to make a confident decision. Thank you, PetMeetly!
We were a bit nervous about buying a dog online, but PetMeetly put all our worries to rest. The seller was friendly and knowledgeable, and the process was simple and seamless. Our new fur baby is the light of our lives, and we have PetMeetly to thank for that.
We found the cutest Shih Tzu on PetMeetly and the buying process couldn't have been smoother. The customer support was fantastic, answering all our questions and helping us every step of the way. We highly recommend PetMeetly to anyone looking for their next furry friend!
Frequently Asked Questions about Dogs for Sale
What are the costs of owning a dog/puppy?
The cost of owning a dog or puppy can include food, veterinary care, grooming, and training. Initial expenses can also include items such as a bed, collar, leash, and toys. Adopting from a shelter may be less expensive compared to purchasing from a breeder. The cost of ongoing care and expenses can range from several hundred to several thousand dollars per year, depending on the size, breed, and health of the dog. It's important to consider the long-term costs before bringing a dog into your home.
Which is the best family dog?
The ideal family dog is subjective and is determined by a variety of criteria like size, energy level, temperament, and lifestyle. Labrador Retriever, Golden Retriever, Bulldog, Beagle, and Boxer are some prominent family-friendly breeds. These breeds are well-known for their outgoing, pleasant personality, flexibility, and low-to-moderate energy levels. Individual dogs may vary widely in personality and activity level even within a breed, so it's crucial to spend time with a dog before taking them home. Finally, the perfect family dog is one that matches your lifestyle and family dynamics and provides you pleasure and company.
What is the best dog for the elderly?
Smaller breeds that are calm, friendly, and low-maintenance, such as the Shih Tzu, Poodle, Bichon Frise, and Cavalier King Charles Spaniel, are ideal for the elderly. These breeds have modest activity needs and are ideal for elders who have restricted mobility. They are also frequently kind and loving, making them suitable companions for elderly people who live alone. However, keep in mind that various dogs have different personalities and demands, so select a dog that is a good fit for your unique scenario and lifestyle.
Which is the best hypoallergenic dog for a busy family?
Some hypoallergenic breeds that are good for families are the Bichon Frise, Poodle, Maltese, and Labrador Retriever. These breeds shed little, are simple to train, and have pleasant dispositions. While some breeds are generally hypoallergenic, they still need grooming and activity and may not be appropriate for all family members with allergies. To guarantee compatibility, meet the dog before adopting.
What are the best breeds for emotional support dogs?
Breeds noted for their calm, gentle, and friendly demeanor, such as the Labrador Retriever, Golden Retriever, Poodle, and Bernese Mountain Dog, are ideal for emotional support dogs. These breeds are known for their low activity levels, good trainability, and ability to create close ties with their owners, which makes them perfect companions for those who need emotional support. Other breeds that are popular for emotional support dogs include Greyhounds, Shih Tzus, and Bichon Frises.
Kindly Note: The dogs listed on this page or any other locations listed on our website, petmeetly.com are not pre-screened, and we accept no responsibility for the breeders' certifications, guarantees, commitments, quality of service, or reputation. We highly recommend you interview them and ascertain dog breed standards before dealing with them.
Are you looking for a trusted and reliable dog breeder near you?