Petmeetly

helps you find a dog for adoption or a new home for your dog
Don't wait to adopt a furry friend today! There are so many pets waiting for a loving home. By adopting a pet, you give a deserving pet a new chance at life and gain a loyal friend who'll bring happiness and joy for years.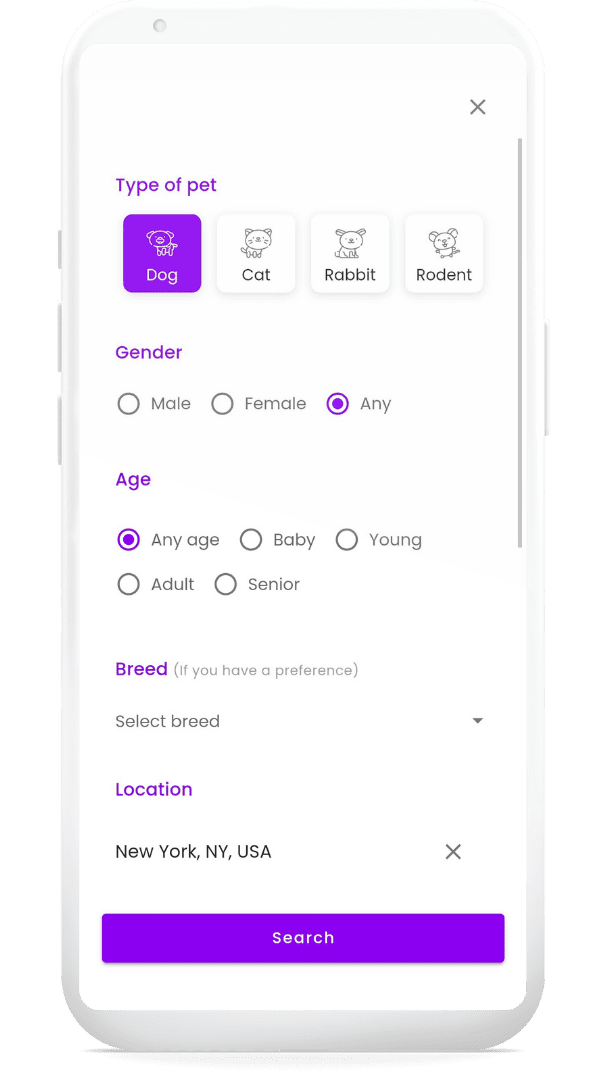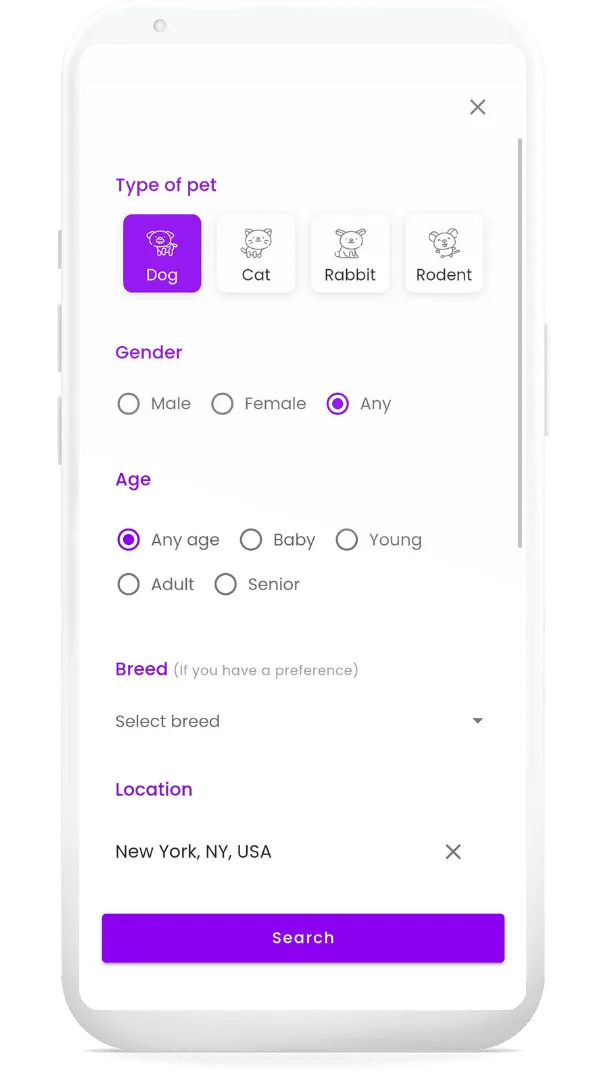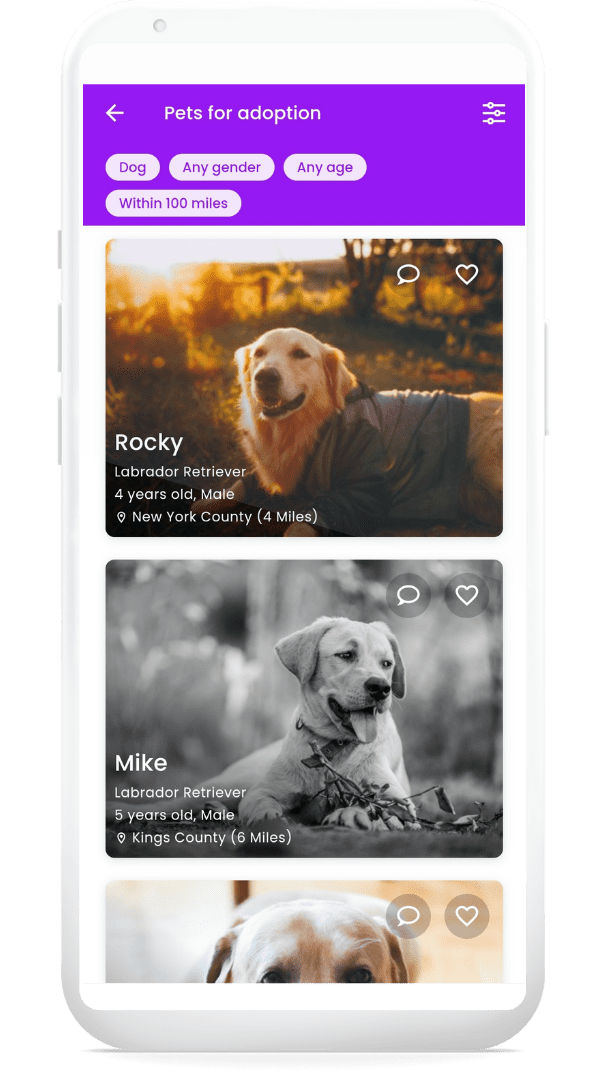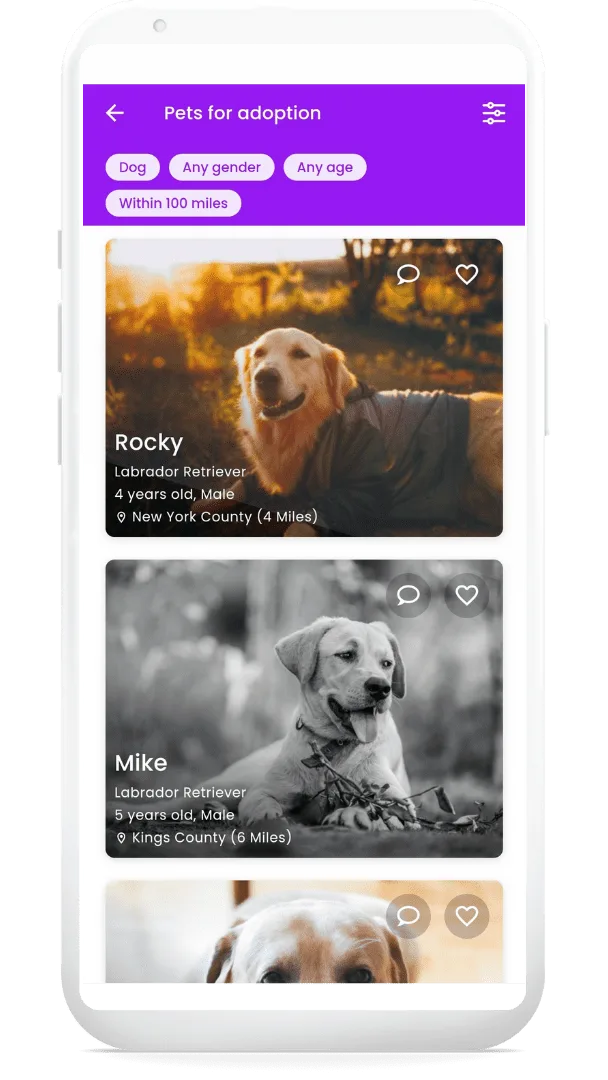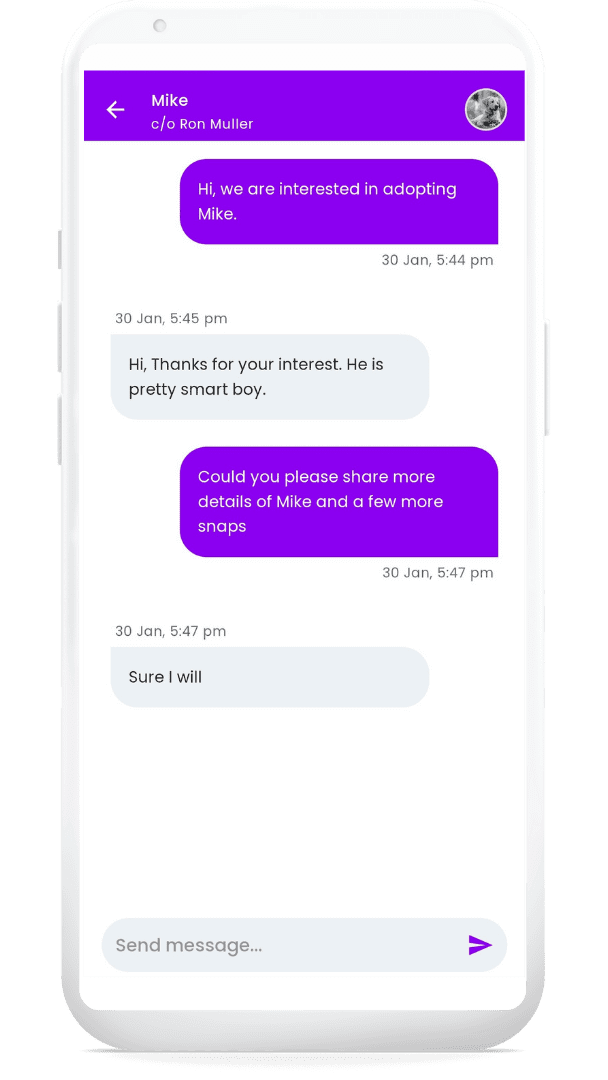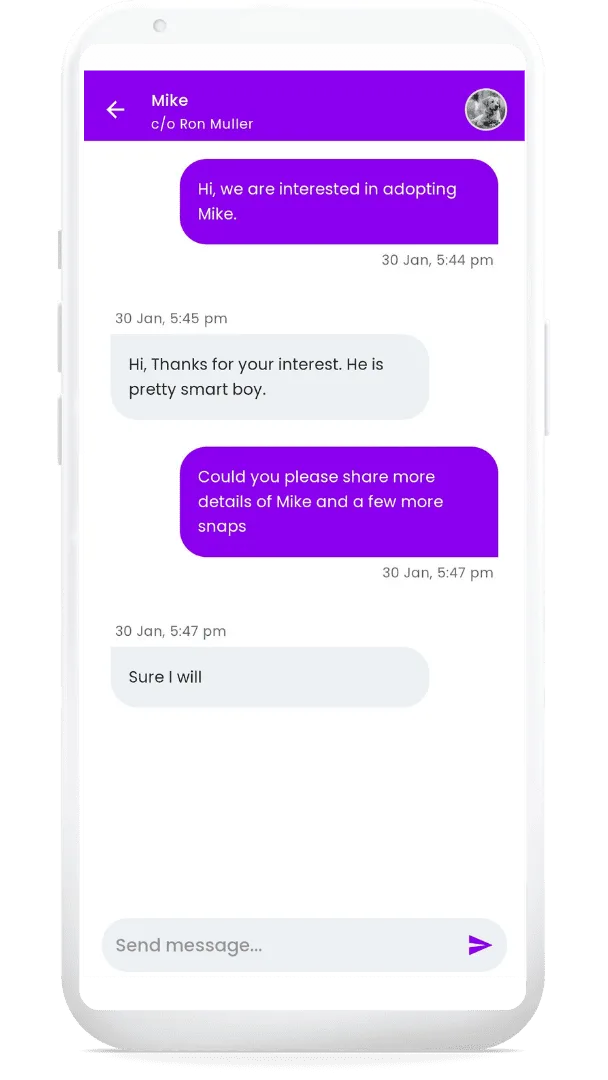 Find Dogs and Puppies for Adoption Near you
Adopting a dog is a serious decision that demands much consideration and preparation.
Select what kind of pet you want:
Thinking about adopting a dog? Awesome! But before diving into the adoption process, let's figure out what type of dog suits you best. Think about size, how much energy they have, and how well they'll mesh with your day-to-day life. These bits are super important to consider.
Research adoption organizations:
Looking to adopt a pet? There are tons of places to start – think animal shelters, rescue groups, even breed-specific organizations. It's a good idea to check out a few different groups in your area. See which ones really click with your beliefs and what you're looking for. Finding the right fit can make all the difference!
Prepare your house:
Before you bring a new furry friend home, it's a smart move to make sure your living space is all set for them. You want to create a cozy and safe spot where they can feel right at home.
Rehoming a pet is tough, no doubt about it. But sometimes, it's the right move for both the animal's happiness and your own well-being.
Here's a guide to ensure a responsible rehoming process:
Evaluate the situation:
Thinking about rehoming your pet? It's a big decision. Take a moment to think about the why. Is it behavior, health, or changes in your lifestyle? Sometimes, these issues can be sorted out with some professional help. Worth considering, right?
Locate an appropriate new home:
Looking for a new home for your dog? The key is to find a place where they'll get loads of love and the right kind of care they need.
Thoroughly vet potential adopters:
Handing over your pet to someone new? Make sure to do your homework first. Check their references, take a good look at their home, and don't forget to get a formal adoption agreement signed. It's all about making sure your furry friend is in good hands.
Maintain contact:
After your pet moves in with their new family, stay in the loop! Check in with them, offer any help if they need it. It's all about making sure your furry buddy is happy in their new home.
Find Your Next Best Friend
PetMeetly made finding our new pup a breeze! The search filters allowed us to find the perfect breed and location, and the detailed profiles gave us all the information we needed to make a confident decision. Thank you, PetMeetly!
Petmeetly was a lifesaver when we needed to rehome our dog. The team was incredibly understanding and found a loving new home for our furry friend within just a few days. Thank you, Petmeetly!
I adopted my new best friend Rony through PetMeetly and I couldn't be happier. The platform was user-friendly and the support team was incredibly helpful.
Frequently Asked Questions about Dog Adoption
What are the costs associated with adopting or rehoming a dog or puppy?
Thinking about adopting or rehoming a dog? There's a bit to consider, budget-wise. You've got adoption fees, getting them home, vet check-ups, shots, spaying or neutering, microchipping, and any other medical stuff they might need. Some places might ask for an adoption contract or a donation too. And don't forget the ongoing stuff like food, supplies, and regular vet visits. It's super important to really think about and plan for all these costs before you decide to bring a furry friend into your life.

What are the benefits of adopting an older dog compared to a puppy?
Thinking about adopting a dog? Going for an older one has its perks over a puppy. Older dogs are usually more chill, easier to train, and you can already get a sense of their personality and habits. Big bonus — most are already housebroken, so you can skip the whole potty-training marathon. Plus, they tend to be less hyper, making them a great match for older folks or families who can't squeeze in loads of exercise and training time. And hey, they often come with some basic training, so settling into their new home can be a breeze. The best part? Older dogs often really treasure their new homes and families and bond super quickly.
At what age can puppies be adopted?
Usually, you can adopt puppies when they're about 8-12 weeks old. That's when they've had their first shots and are weaned off their mom. Adopting a little furball at this age is great 'cause you get to bond with them from the start and begin training and socializing early on. But keep in mind, puppies need lots of your time, effort, and patience for training and care. They're adorable, but they're a big commitment too!
How can I find out more about the dog or puppy's background and medical history?
Want to know more about a dog or puppy's background and health before bringing them home? Super important! Start by chatting with the shelter, breeder, or previous owner. They can fill you in on the backstory. Also, a vet check-up is a smart move. It'll give you the lowdown on their health, any past issues, and treatments they've had. And don't forget to ask for their vet records – it's like getting a full health history in paper form. This way, you'll have all the info you need to see if they're the right fit for your family.
How do I train and socialize my new dog or puppy?
Got a new dog or puppy? Training and socializing them is super important for their growth and happiness. Kick things off with simple commands like 'sit', 'stay', and 'come'. Then, you can slowly up the ante. Socializing your pup means getting them used to all sorts of places, people, and other animals. It's all about boosting their confidence and cutting down on any scaredy-cat behavior or grumpiness. Stick to reward-based training – treats and praises work wonders. If you're feeling stuck, think about joining a training class or getting some professional advice. Remember, training's all about being consistent and patient. It's a journey, but totally worth it!
Kindly Note: The dogs listed on this page or any other locations listed on our website, petmeetly.com are not pre-screened, and we accept no responsibility for the breeders' certifications, guarantees, commitments, quality of service, or reputation. We highly recommend you interview them and ascertain dog breed standards before dealing with them.
Find an adoptable dog near you
Take action now and make a difference in a dog's life. Adopt a dog today!
You might be interested to know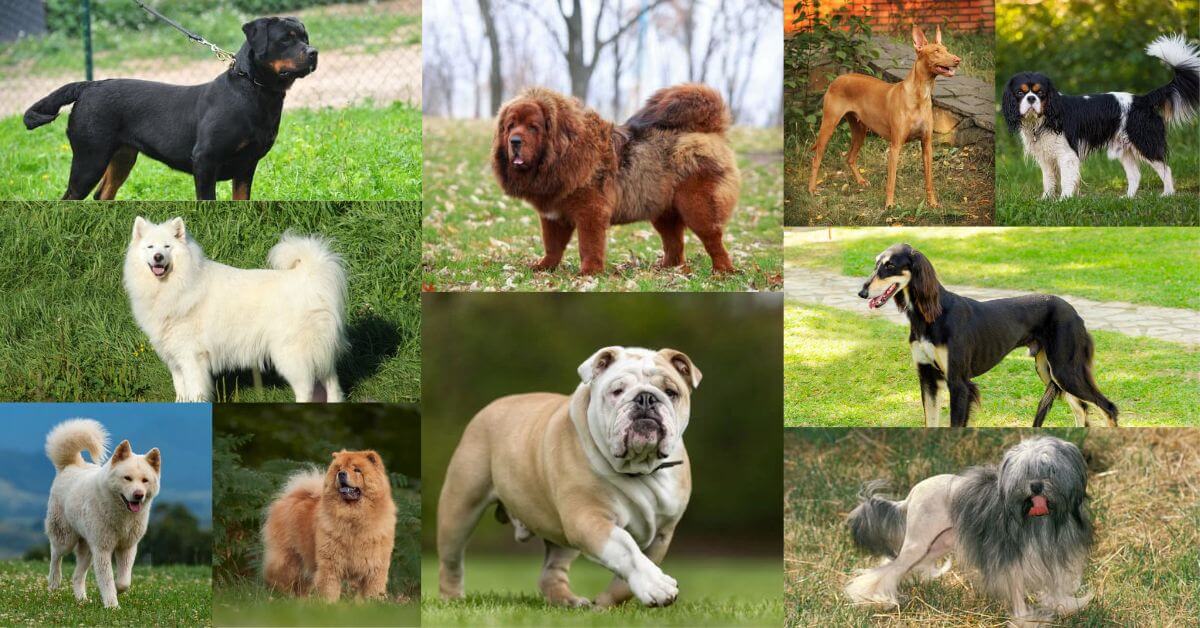 Dogs are called man's best friend for a reason – they're loyal, loving, and provide endless joy to...
read more