Petmeetly

helps you find a Stud or a Queen from 1000's of cats from 50+ breeds
Petmeetly is the perfect solution for cat owners looking for a partner for their beloved pets. Whether your cat is young and lively, looking for play and adventure, or elderly and lonely, Petmeetly can help you discover the perfect match.
Create a profile for your cat that includes information such as breed, age, and personality qualities. Browse other cats' profiles in your neighborhood and contact their owners to organize playdates or meet-ups.
Petmeetly is a safe and straightforward platform for finding the ideal partner for your cat. You may connect with other cat owners and assist your pet in finding new friends with a few easy clicks. So, why delay? Begin your search right now!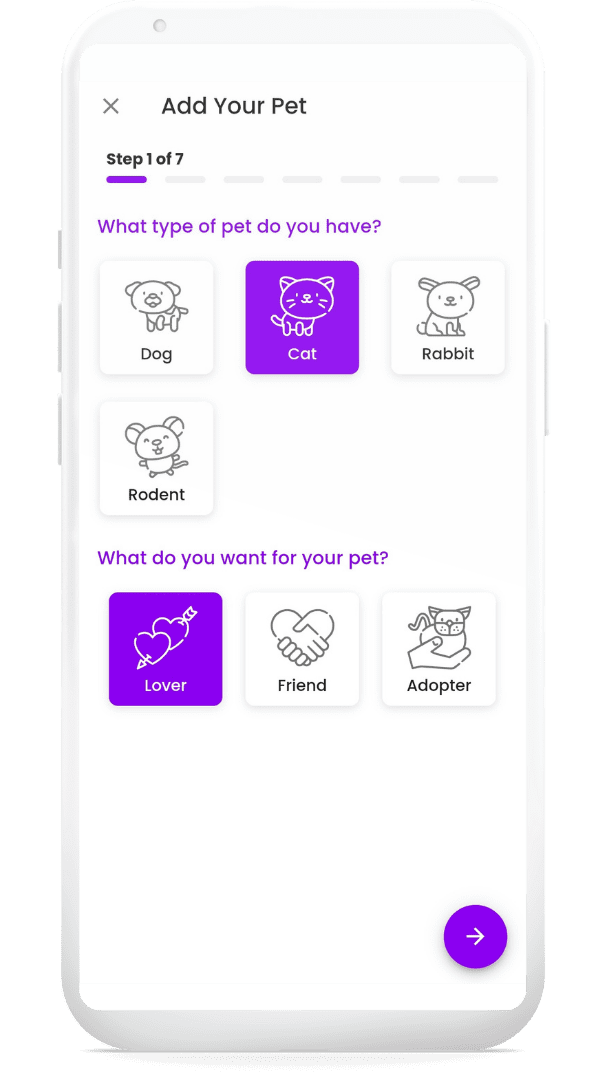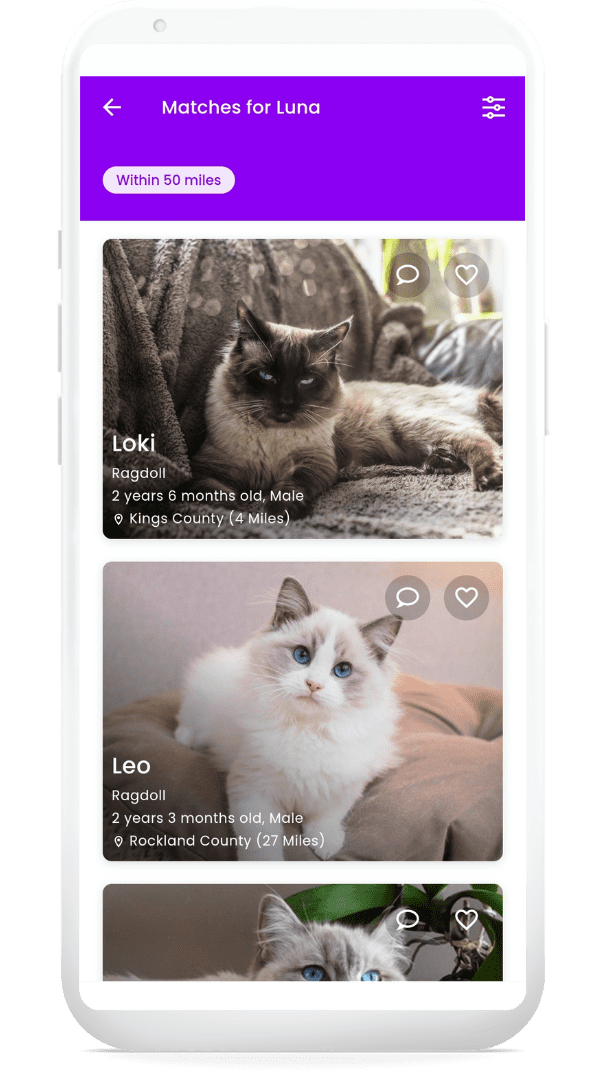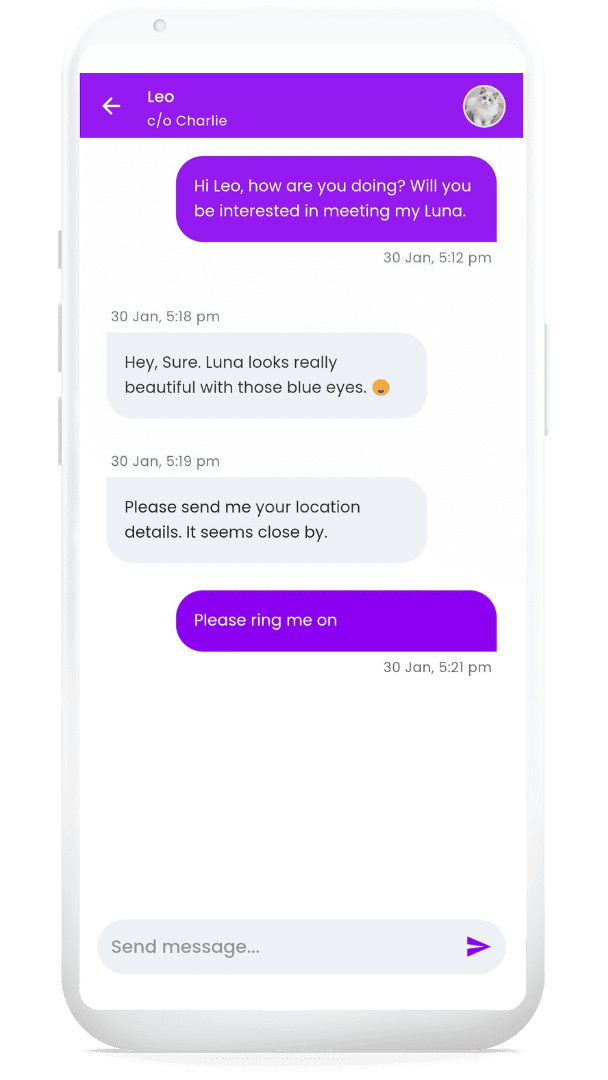 Find Cats for Breeding Near you
Tips for Choosing a Responsible Cat Breeder and Preparing for a New Kitten
Choosing a responsible breeder:
Look for breeders who are members of professional organizations such as the Cat Fanciers' Association (CFA) or The International Cat Association (TICA) and have a good reputation. Visit the breeder's facilities to meet the kittens and their parents.
What to look for in a healthy kitten:
A healthy kitten should have bright eyes, clean glossy fur, a moist nose, clean ears, a good appetite, active behavior, normal bowel and urination patterns, no respiratory distress, and no skin irritation. It is also vital to ensure proper vaccinations and parasite treatment. A vet check-up can also verify the kitten's overall health.
Preparing for a new kitten:
To prepare your home for a new kitten, set up a safe sleeping area, provide food and water bowls and a litter box, obtain necessary supplies, and kitten-proof the home by removing any toxic plants, securing loose wires or cords, and securing any hazardous objects. Establish a routine, introduce the kitten to your home and family, get pet insurance, and schedule a vet visit.
Thank you Petmeetly.
We found Oliver for our Stacy, and it was Love at first sight. They had a good time together, and we are now waiting for the pups.
Petmeetly, You are just awesome.
I was a bit pessimistic to start with as I have tried a couple of other websites without any success. But after my first conversation here with a pet owner, I got excited to see that this is real. We could not be happier with our new family members.
Petmeetly is the best.
Unlike so many match finders out there, these guys are not scammers. They connect with real people and real dog profiles with real photos.
Frequently Asked Questions about Cat Breeding
When should you breed a cat for the first time?
Before breeding a female cat (queen) for the first time, it is best to wait until she has reached sexual maturity, which is usually about 6-12 months of age. Breeding too soon might result in health problems for the queen and her offspring. Additionally, before breeding the queen, make sure she is in excellent condition, has a stable temperament, and is of good breeding stock. A vet check-up and advice may assist in determining the optimal time to breed.
How often can you breed your cat?
The frequency with which a female cat may mate is determined by a variety of factors, including her health, age, and general well-being. In general, waiting at least 6-12 months between breeding cycles is suggested to enable the queen to recuperate from the physical rigors of pregnancy and nursing. Overbreeding may cause health issues for the queen as well as diminished fertility. To discover the ideal breeding schedule for your cat, speak with a veterinarian.
What does the term "heat" mean in cat breeding?
The term "heat" in cat breeding refers to the female cat's reproductive cycle and time of fertility, also known as estrus. The queen will exhibit characteristics like as increased vocalization, restlessness, and rubbing against things at this period, signaling that she is ready to mate. The heat cycle may last anywhere from 3 to 14 days, with the queen being most productive in the latter part of the cycle. Throughout the queen's breeding years, the heat cycle happens on a regular basis, generally every 2-3 weeks.
What are the costs associated with cat breeding?
Some of the most typical costs involved with cat breeding are:
Veterinary care includes regular check-ups, immunizations, parasite control, and any medical treatment that is required.
Breeding materials include cat beds, toys, food, litter boxes, and other items required for the queen and her kittens' care.
If you use a male cat (stud) from another breeder, you may be charged a stud fee.
Fees may be necessary to register the kittens with a breed registry such as the CFA or TICA.
Feeding, grooming, and providing essential medical care for kittens prior to placement with new parents.
Kindly Note: The cats listed on this page or any other locations listed on our website, petmeetly.com are not pre-screened, and we accept no responsibility for the breeders' certifications, guarantees, commitments, quality of service, or reputation. We highly recommend you interview them and ascertain cat breed standards before dealing with them.
Are you looking for a trusted and reliable cat breeder near you?
You might be interested to know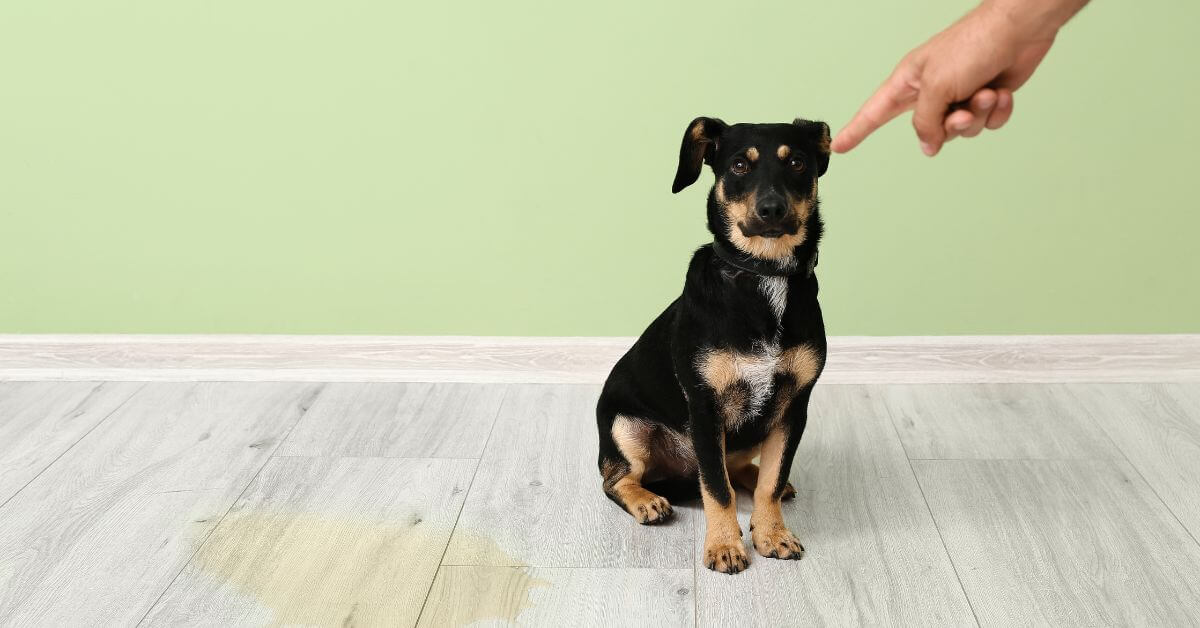 Hey there, fellow dog lover! I'm sure you'll agree with me when I say that having a house-trained...
read more